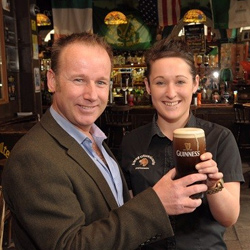 Mobile Bar Hire for all types of events in Devon and Cornwall
Kitty's Mobile Bar Hire are recognised throughout Devon and Cornwall for their commitment to exceptional service, flexibility at venues and wide range of high-quality services. So many people booking events in Devon and Cornwall look no further than Kitty's Mobile Bar Hire, because we can cope with all your Mobile Bar Hire needs. Whether you're looking for a budget bar hire for a small intimate gathering, cocktail bar hire, a mobile bar for a wedding, a mobile bar for festivals or concerts, a corporate event at Kitty's Mobile Bar Hire we have them all covered.
All our bar hires are flexible and can be set up virtually anywhere in a field, inside a marquee, on patios or outdoor venues to indoors for private hire. We can provide Mobile Bar facilities to cover from 20 guests to 10,000. When you book a bar hire from Kitty's you can choose from a range of formats such as free bar hire, cash bar hire or dry bar hire.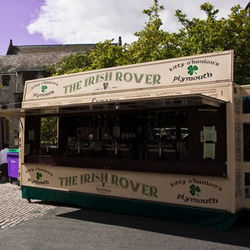 Irish Rover Mobile Bar Hire
Kitty's Mobile Bar Hire and the Irish Rover offers a tailor-made service designed to meet all requirements of your special event whatever it is. We understand every detail needs to be perfect and our excellent Mobile Bar Service will ensure that it happens. Our Mobile Bar team will provide you with a high quality, efficiently run, and well-stocked bar to let us play host for all your guests. Thus allowing you to enjoy your event be it a Wedding day celebration, corporate event, show or charity event or simply a large party to celebrate a birthday or other special occasion.
Our professional Mobile Bar Hire team will provide an excellent service and will not keep your guests waiting. We will listen carefully to your ideas and do our best to accommodate them from reception drinks to toasts and table drinks, down to licensing and glass hire, with our vast knowledge and experience of Mobile bar Hire we think we have covered nearly everything at some point. Your guests can expect to pay very reasonable prices for the tipple of their choice, however, should you wish to stock the bar yourself that's fine too or we can arrange a bespoke package just for you.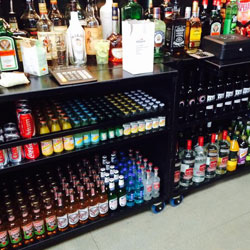 Mobile Bar hire for all Devon and Cornwall
At Kitty's Mobile Bar Hire we off a choice of Full Bar Service with Uniformed bartenders, we will arrive with everything that is required to run a cash bar for your event. This includes the mobile bar, fridge, glassware, ice and garnishes, we can also take care of applying for the license to the council. The bar will offer your guests draught lager and bitter, bottled beer, cider, alcopops, wine, soft drinks and of course spirits! You can of course add more drinks including local real ale or other speciality drinks of your choice.
Kitty's Mobile Bar Hire also offers a Free or Subsidised Bar you can have the pay bar option or if you wish or we can run an account bar that we will invoice you for afterwards meaning that your guests do not have to pay. You can reduce the selection of drinks that we offer and exclude drinks like malt whisky, shots and only offer single measures. With the subsidised bar you stipulate the price of the drinks that your guests pay and we will invoice you the difference afterwards.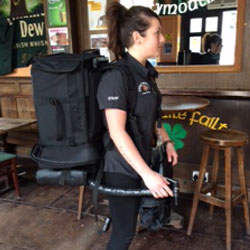 The Perfect Truly Mobile Bar Solution
Parties are rarely rated with the term "legendary"; more often than not the host will have to pull off something extraordinary to excite the guests into such a fever that they will be talking about that fabled night for weeks to come! If you're looking to host a party or event that will imprint itself in the memories of your guests, then a Kitty's Mobile Bar Backpack Drinks Dispenser is certain to be the ideal drink accessory to keep people happy throughout the night! The Backpack Drinks Dispenser is a portable piece of smile inducing drinkware!
Simply filled with your favourite beverage, alcoholic, non alcoholic, hot or cold the dispensers are always the most popular people at a party or event. Our Backpack Drink Dispenser hire offers a mobile drinks system that can dispense any drink such as juice, draught beer, soda, tea, coffee, iced tea, wine, various shooters and hundreds of other beverages. From weddings and parties music festivals to concerts, sporting events to street festivals and numerous other events of any size. Our Backpack Drink Dispensers are going to be a great hit, call for details on how we can help with your mobile bar hire.